Staff and Board of Directors
Melanie Younger
Executive Director
Melanie's heart for justice that heals, aligned her with CCJC's mission and continues to inform her approach to CCJC's projects, including her co-authorship of CCJC's new curriculum for The Empathy Project...
Melanie's first career was in yoga and alternative medicine, but in recent years Melanie's work has shifted focus towards healing on a larger scale through adding her voice and elbow grease to movements aiming to repair systemic injustices and to try to mitigate climate change. Through her work with CCJC, Melanie continues a family legacy of compassionate approaches to justice and corrections, following in the footsteps of her late Grandparents Alan and Catherine Younger who created and stewarded a 40 year Prison Ministry at Joyceville Institution. Melanie continues to draw on her years of compassion-based and mindfulness skills cultivated through her decade-long tenure as a yoga teacher as well as her training in non-violent communication. To learn new skills to add to her arsenal to try to make positive change, she is currently a law and environmental science student. In addition to her work with CCJC Melanie functions in a consulting role as the Director of Project Advancement with an environmental organization called For The Wild, which is based in Northern California and is focused on supporting biodiversity, reforestation, education and research. Melanie also works as a legislative lobbyist specializing in environmental and animal rights in partnership with Florida-based NGO, Lobby For Animals. In 2017 Melanie received distinction as an International Scholar Laureate in International Relations and Diplomacy. In 2018 Melanie will complete her honours thesis focusing on international trade policies and their impacts on global human rights and environmental law and she will begin graduate studies through Harvard University's extension program in environmental policy and international development.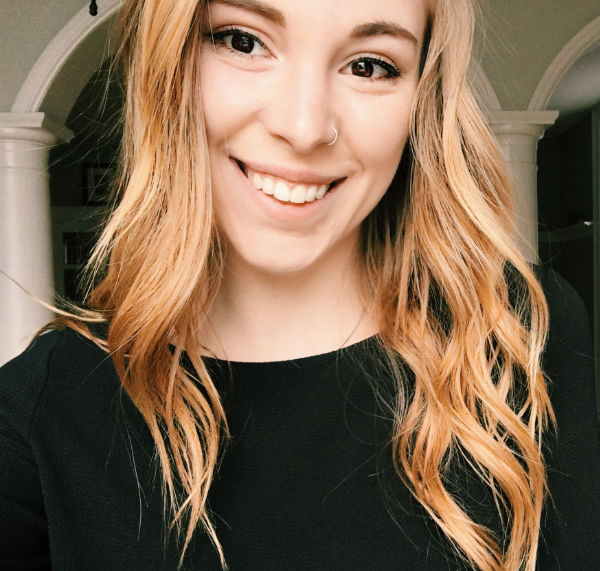 Kimberlee Nesbitt
Research and Development Assistant
Kimberlee is currently Law and Legal Studies student in her third year of study at Carleton University. With a family background in emergency law enforcement, and a father who previously had an established career in forensics, Kimberlee has grown up with a profound interest in the law and the criminal justice system.
Kimberlee's natural gifts for compassion and empathy, as well as her skills in research and drive to help justice-involved individuals led to her work with CCJC and the Empathy Project.
Working alongside Melanie Younger CCJC's Executive Director, and under the academic supervision of Dr. Rebecca Bromwich CCJC's President, Kimberlee serves as a research assistant, interning through Carleton University's Department of Law and Legal studies. Kimberlee's work is essential to the development the Empathy Project's new curriculum, which is focused within a Canadian justice context, and streamed into two gender-specific formats. Kimberlee's continued academic research is fundamental to this project, creating the infrastructure and backbone of the new curriculum.
Kimberlee believes strongly in helping others. Upon completion of her undergraduate education, she plans to attend law school with a focus in criminal law.
Board of Directors – 2017/2018
Rebecca Bromwich
President of CCJC – Presbyterian Church in Canada
Rebecca Bromwich is a lawyer and legal academic, as well as an ordained ruling elder of the Presbyterian Church in Canada (PCC). She serves as the PCC representative on the CCJC Board, and served for several years as CCJC's Treasurer before being elected its President in 2017.
She is a faculty member with Carleton University's Department of Law and Legal Studies, and has been a practicing lawyer since 2003, serving now as an Assistant Crown Attorney for Ontario's Ministry of the Attorney General. Rebecca received her Ph.D. in 2015 from the Carleton University Department of Law and Legal Studies, and was the first ever graduate of that program. She was awarded a Carleton Senate Medal as well as the 2015 CLSA Graduate Student Essay Prize for her graduate work. Rebecca also has an LL.M. and LL.B., received from Queen's University in 2002 and 2001 respectively, and holds a Graduate Certificate in Women's Studies from the University of Cincinnati. In addition to her several years teaching at Carleton University, she previously taught at the University of Ottawa's Faculty of Law, Rebecca has taught at the University of Western Ontario's Faculty of Law, and at the University of Cincinnati. She is a columnist for the Lawyers Weekly and has authored and co-authored several mongraphs, anthologies and legal textbooks for students and legal system practitioners, including lawyers, paralegals and police. She lives in Ottawa with her husband, four children, and two dogs.
Randy Klassen
Vice-President of CCJC – Mennonite Central Committee
Randy Klassen currently serves as the national coordinator for the Restorative Justice network of Mennonite Central Committee throughout Canada. Prior to that, he has worked as both a college instructor and church pastor.
Saskatoon has been home for fifteen years, but only recently has he become aware of the two prisons (federal and provincial) that are each within a few kilometres of his neighbourhood, and of the many social issues that they represent. He is grateful for the many organizations and volunteers who work to bring hope to the incarcerated, and healing to victims, across this wide country. Randy hopes that by the time his grandchildren are adults, when people speak of—or demand—justice, they will always include the word "restorative."
Sharon Dunlop
Past President – The Anglican Church of Canada
My interest in prisons goes back to my pre-teens years. I have long been fascinated by music, books and movies that have been associated with prisons and inmates. The oppressive conditions, the often hostile environment, the despair many inmates feel has always spoken to my heart.
I wanted to do something to make a change in the prison environment and in someone's life. In 2003 I became involved in prison ministry as a chaplaincy volunteer. Since that time many doors have been opened, eventually leading to the diaconate, to serving on the board of The Church Council on Justice and Corrections representing the Anglican Church of Canada and now as a prison chaplain. Life is harsh on the "inside"; it is dark. There is a need for the light of Christ to shine and to give hope. There are many reasons people find themselves incarcerated – economic instability, lack of education, racial bias, substance abuse, mental health issues, sense of abandonment – to mention a few. Many of these issues are social issues which if addressed appropriately in the "outside" community could lower the rate of incarceration. And of course, the harsh, oppressive environment inside the prisons affects those persons who have been wrongly convicted, who suffer even more, often in silence, because they know they should not be incarcerated in the first place. My interest in corrections, restorative justice and victims takes up much of my time and interest – it is a calling which God has placed on my heart throughout my entire life, but I also take time for my family, theology studies and piano lessons, an uphill struggle at best, but also another life-long interest God has given me. Perhaps one day I will be able to lead worship music in the prison chapels thereby uniting these two interests! Peace, Rev. Sharon Dunlop Deacon, St. James' Anglican Church, Kingston Past President, The Church Council on Justice and Corrections "Nothing is easier than to denounce the evildoer; nothing is more difficult than to understand him." Fyodor Dostoyevsky
Steve Hoffard
Treasurer – Evangelical Lutheran Church in Canada
Rev. Steve Hoffard serves on the CCJC Board of Directors representing the Evangelical Lutheran Church in Canada (ELCIC).
He is pastor of St. Mark's Lutheran Church in Kingston, ON where he is personally involved in prison visitation.  St. Mark's congregation also holds monthly worship services at Joyceville Minimum Institution and welcomes inmates with weekly escorted temporary absences to attend worship and participate in the life of the congregation.  It is his personal and parish ministry that has fostered in Steve an interest in corrections and restorative justice practices.
Greg Dunwoody
Secretary – Canadian Conference of Catholic Bishops
Gregory Dunwoody is the Canadian Conference of Catholic Bishops appointed board member of the Church Council on Justice and Corrections.
He is a full-time chaplain at Headingley Correctional Centre, Manitoba Corrections (19 years). Previously Greg was in Adult Religious Education and Lay Ministry Formation at parish, diocesan and regional levels (25 years).
Greg is a certified "specialist in spiritual care" with the Canadian Association of Spiritual Care.
Greg and Margot Lavoie heard of RJ and the CCJC in the late 1980's. Their interest in expanding restorative justice led them to take Community Forum (RJ) training and to bringing resource people to Winnipeg for RJ Week, including some staff and board members of the CCJC. Margot has previously served on the CCJC board.
Among CCJC resources Greg has facilitated "Audrey's Flowers – a Congregational Restorative Justice Experience", piloted "The Empathy Project" and created the annual "Homily Guides for Restorative Justice Week."
Greg also has over 35 years of spiritual, cultural, familial and communal experience and learning from Indigenous peoples.
John DeVries
Director – Christian Reformed Church in North America
CCJC first introduced me to Restorative Justice which has become a life passion. CCJC facilitated training materials and communication between faith communities and government.
While staying healthy, I have served Christian Reformed (CRC) churches in Regina, Sask., and Hamilton, Ont. As chaplain I served in the Federal Penitentiary (Montreal) and provincially (Guelph) as well as in psychiatric facilities. I served as Ont. Regional Coordinator of Chaplaincy in SW Ont., (English) and NE Ont. (French)for twelve years. I continue to serve on CRC Chaplaincy Ministries Advisory Committee. I am the husband of Elly (50yrs) and father of three married sons. Since retiring eight years ago at 65 yrs old, I have had the freedom to pursue my passions -that now means serving nationally on CCJC, plus the CSC Federal Interfaith Committees, provincially that means monthly Dismas meetings with ex-inmates, and in London I serve on the Mission Services board -ministries with the homeless, hungry and hurting. In my local church, I co-facilitate monthly seniors fellowship activities.
I have a history as Restorative Justice trainer and advocate. Now I still volunteer while traveling more and more family time.
Having finished my 20th Boston Marathon last April and my 50th overall marathon last October, I start every day with a 8-10 km. run..
Shalom, John de Vries Jr., London
Dick Cotterill
Director – Canadian Friends Service Committee
Dick is a businessman who lives in Truro, Nova Scotia where he has been actively involved in prison visitation, the local halfway house, homeless shelter and restorative justice for many years.
He is a member of the Religious Society of Friends (Quakers) and sits on the CCJC Board of Directors as the representative of Quakers Fostering Justice, a program committee of the Canadian Friends Service Committee.